Crest & Motto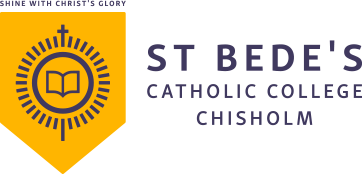 VISUAL IDENTITY CONCEPT
The dynamic and symmetrical design reflects a combination of symbols and layering of meaning
The outermost ring features bursts of light emanating from the book at the centre. This exemplifies how learning and knowledge are at the heart of education, the same as Bede's life works
The emblem sits within a more traditional shield shape that is an identifiable badge for the school
The sans serif typeface with loose kerning presents a sophisticated and contemporary statement for the school's name.
MOTTO
THE PRAYER, CHRIST OUR MORNING STAR – BY BEDE THE VENERABLE
O Christ, our Morning Star,
Splendour of Light Eternal,
shining with the glory of the rainbow,
come and waken us
from the greyness of our apathy,
and renew in us your gift of hope.
Amen.
Shine with Christ's Glory.