Foundation Plan
The College's Foundation Plan was launched in early Term 2 in 2018 - three terms prior to the opening of the College. The Foundation Plan was a product of extensive consultation with various community groups and stakeholders, including the incoming students, parents and parishioners. The Foundation Plan provides a clear mission, vision and road map to guide the College through its planning and early implementation phases.
Central to this Foundation Plan is a clearly stated Mission and Vision Statement. The Mission Statement summarises what St Bede's will look like as we grow together. It reads, 'Inspired by Jesus Christ, St Bede's Catholic College nurtures a vibrant and welcoming community; Seeking knowledge and realising gifts through persistence and collaboration; Living the Gospel in word and action'. The 2023 Vision Statement articulates our goal for our graduating class of 2023 when they depart St Bede's as exemplary role models to the students who will follow them.
The Vision Statement reads, 'Students will leave St Bede's Catholic College as confident, resilient and reflective young adults, embracing learning, searching for truth and living their faith in a contemporary world'.
The four key domains that enable both the Mission and Vision Statements to become a lived reality are Catholic Formation and Mission, Leadership, Learning, and Service.  Each of these domains have a list of very clearly stated objectives and adjoining strategies that act as a guide in the effective implementation of the plan. Embedded in all aspects of the Foundation Plan are the four underlying Gospel values of love, truth, compassion, and justice.
Each year, an annual plan is developed as a means of more specifically planning for the achievement of the objectives within the Strategic Plan. Following a progress review of the Foundation Plan in early 2018, it was decided to extend the Foundation Plan by another year, meaning it has now become our 2017-19 Foundation Plan.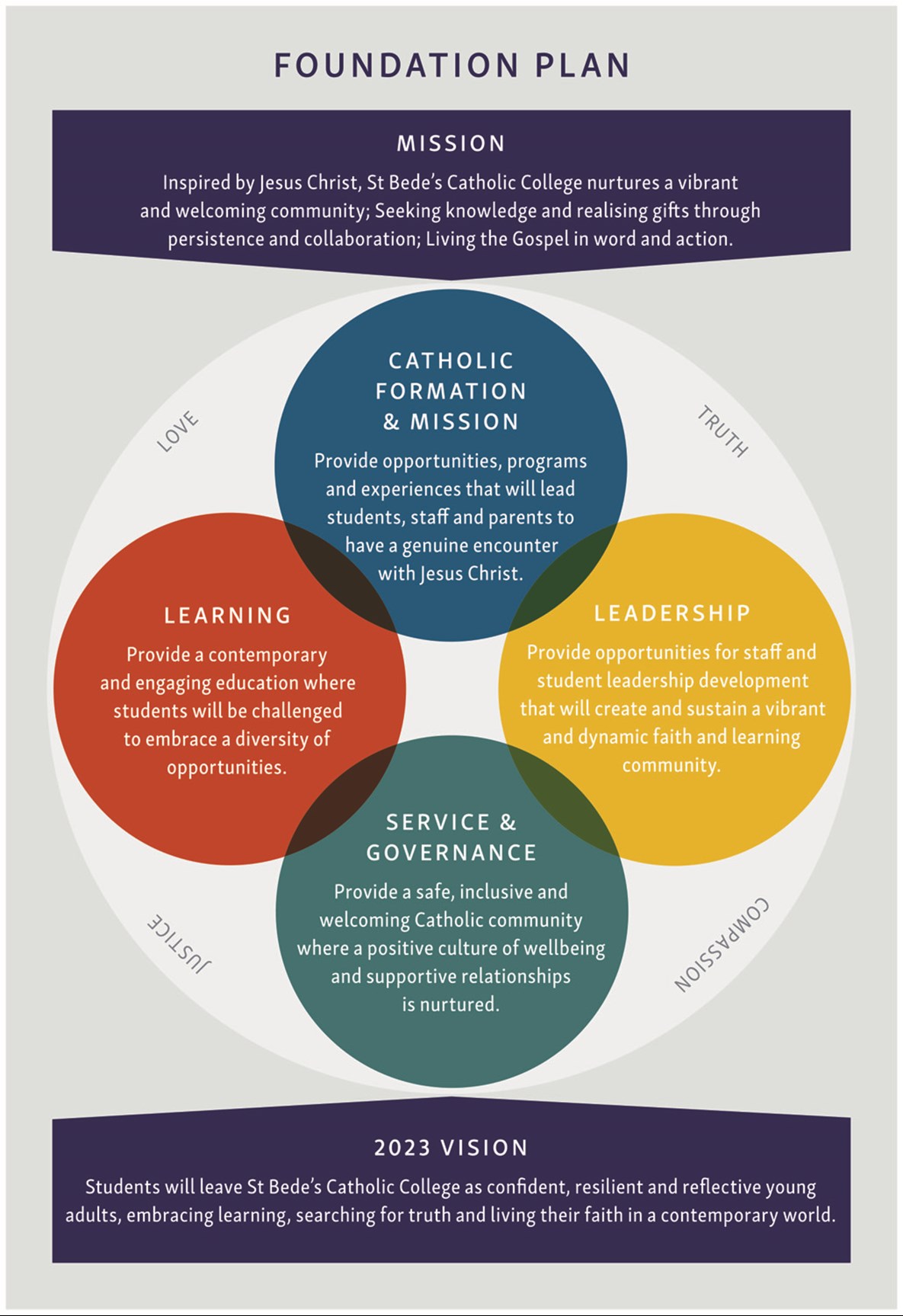 As a way of giving expression, meaning and sustainability to this Foundation Plan and to the other Strategic Plans that will follow, a Visual Identity was developed and launched at the start of 2018. Within this diagram, four key pillars - courage, faith, knowledge and community - were identified as being the essence of life at St Bede's Catholic College. These four pillars had their origins in the four student houses of Benedict, Dominic, Marion and McAuley. The four pillars are all interconnected and linked back to the College's motto of Shine with Christ's Glory, which in turn is linked back to the Maitland Newcastle's Diocesan's Vision 'At the heart of everything is always Jesus Christ'.